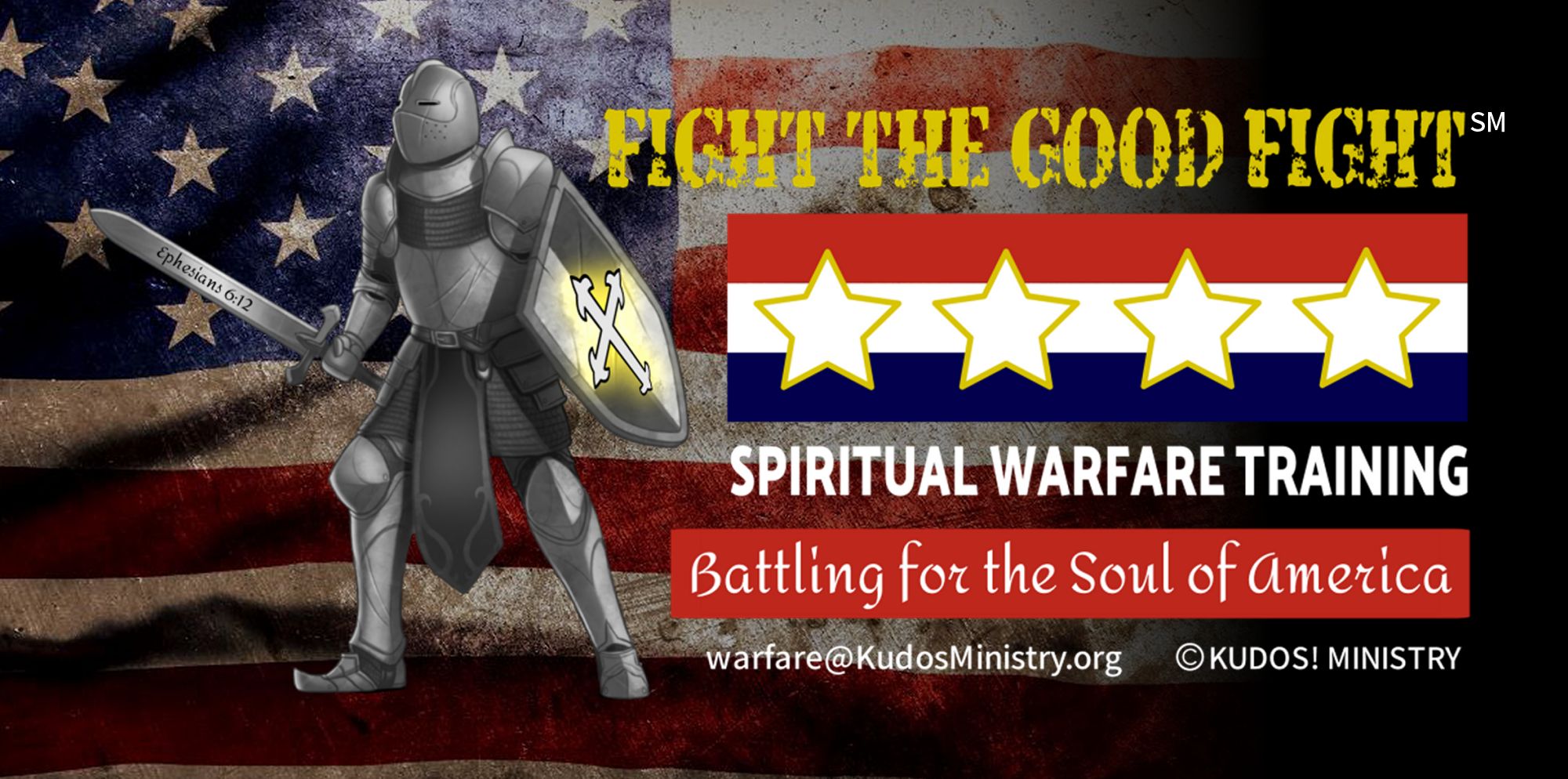 Bring a Spiritual Warfare Training Seminar to Your City
Fighting spiritual warfare is critical for America in 2020 and beyond. The "victory" is first spiritual freedom, and second, freedom to worship and live in a free nation. The enemies of God, freedom, and life itself are trafficking in evil as never before. Kudos! Ministry Spiritual Warfare Training will help you be a stronger and more effective Christian.
Be of sober spirit, be on the alert. Your adversary, the devil, prowls around like a roaring lion, seeking someone to devour.
1 Peter 5:8
Submit yourselves, then, to God. Resist the devil, and he will flee from you.
James 4:7
Submit yourselves, then, to God. Resist the devil, and he will flee from you.
James 4:7
Have nothing to do with the fruitless deeds of darkness, but rather expose them. It is shameful even to mention what the disobedient do in secret.
Ephesians 5:11-12
For though we walk in the flesh, we do not war according to the flesh,  for the weapons of our warfare are not of the flesh, but divinely powerful for the destruction of fortresses.
2 Corinthians 10:3-4
We are Battling for the Soul of America
We are being bombarded by evil agendas in government and public education. In America, we were given the blessing of freedom and laws based upon Godly precepts. It is important to ensure that our American values and principles are not given over to those who willfully traffic in evil. We must act intentionally and with purpose. Consider these major battles:
Infanticide
Socialism
Sex trafficking – children and women, even boys now
Teaching sexual perversion in elementary schools
Pushing "transitioning" from one sex to another
The boy crisis – boys being emasculated and seeing no purpose for their life
Suicides among boys and men increasing (up to six times that of girls and women)
Open borders
Globalism
Elimination of free speech
Intentional schemes to remove God from our culture
and more
Christians Have the Weapons to Fight Spiritual Warfare
Christians have been given everything we need to live victoriously in Christ. In Christ we are to resist evil, but we are also called to take ground back from the enemy that has been stolen, personally and as a people. Don't be misled into apathy and complacency with the statement, "God's got this!" God is in charge, yet He has placed His authority and a calling on us to do His will until Christ returns.
The Church is not fighting well as a body—an army. God designed us to be cohesive, but we are a dismembered body in America. The "Church" is described in Scripture as the worldwide body of believers, and is also described as the "church", local communities of believers. The body of Christ cannot function effectively, much less fight spiritual warfare, being lone ranger Christians. The Army of god must be "tactical" in our Christian faith in these challenging times.
Kudos! Ministry Spiritual Warfare Training will use the Holy Bible to present biblical principles and precepts that God has given his body to
resist and fight evil as the body of Christ in our specific roles and assignments,
protect ourselves from self-inflicted wounds and spiritual attacks,
advance the Good News of Jesus Christ,
maintain the freedoms God has given us in America.
These times are possibly the most exciting times to be a Christian and an American citizen! So much is at stake spiritually and culturally. I tell Christians, especially young boys and young men, if you want to fight the "bad guys", stop playing video war games and watching television shows and movies about demons and super heroes. Instead, be a Christian and fight the real battles where the stakes are the highest and the rewards have eternal value.
Summary of the Spiritual Warfare Training
The training is a full 8 hours with 1/2 hour registration and 1 hour lunch or dinner. It can be set up as an all-day training or an afternoon into evening, any day of the week.
Session 1:
The Christian Soldier's War in Today's America
Who, What, When, Where, Why, How
What Does the Spiritual War have to do with America?
Spiritual Land Mines Christians in America Need to Avoid
and more
Session 2:
Armor Up! You Must Defend Your Territory
Who Do You Think You Are? It's all about Identity
Know Yourself—Strengths, Weaknesses, Tendencies, Temptations
Increasing Your Spiritual Leverage Against the Enemy
and more
Session 3:
Battle Stations! Fighting to Win as a Cohesive Army
Fighting the Spiritual Battle Skillfully and Effectively
God's Divine Army – Being the Body of Christ
The Weapons of our Warfare have Divine Power
and more
Registration & Minimum Attendance
Registration is $1,000.00 plus $25.00 per participant and expenses. Under age 18 is free to encourage younger participants to learn this important material.
Kudos! Ministry is a non-profit Christian discipleship training and education ministry. Kudos! Ministry is NOT a 501(c)3. We will not sign over our Constitutional right to free speech in exchange for 501(c)3 status. Religious ministry is already tax-exempt under Section 508(c)(1)A.
Brief Biography
Paul Weston Eden has been a Christian for 40 years. He came to Christ through a judge who showed him mercy in the judicial system. Years later he was caught up in a bout of spiritual warfare that sent him into a lengthy time of oppression, depression, confusion, pain, sorrow, and grief that led him to believe he wasn't saved nor even loved by God. He "hit bottom" and God met him there and changed his life. He was called out to be a herald and a leader to disciple others in the Christian faith. He is a licensed minister and has been an elder in three churches. Weston has a passion for prayer and has led Prayer Ministry Teams for years. He writes extensively on the Christian's relationship to God, country, family and the body of Christ. He developed a Mighty Men Series to exhort men to rise up and be Mighty Men in these challenging days.
Kudos! Ministry is from a vision God gave Weston several years ago. It is a large discipleship training ministry that includes a variety of modules of training in the Christian life. "Fight the Good Fight Spiritual Warfare Training" is one of these training modules.
What's with the Name, Kudos?
Kudos is from the Greek and means "praise and honor; glory; acclaim; renown". Who is most deserving of its meaning? Almighty God and Jesus Christ.
Current & Past Ministry Work
Co-pastor Disciples Christian Fellowship 
Past elder, Head of Prayer Ministry, and co-leader of a men's group, non-denominational church, Littleton, Colorado
Past elder and co-Leader of Prayer Ministry, Evangelical Presbyterian church, Golden, Colorado
Past elder, Evangelical Presbyterian church, Aurora, Colorado
Lead a bi-monthly all church and community Prayer Nights
Created and wrote 

"40 Days of Prayer"

all-church prayer program focused on our World, Nation, State, Community and Church
Created and taught a 10-week seminar on our identity in Christ entitled,

"Who Do You Think You Are?!"

Created and taught an 8-week seminar entitled, "Just Pray: Prophetic, Intercessory and Healing Prayer"
Created and taught classes on

"A Man and His Emotions:  Identifying Emotions and Using them for Good"

Created and taught classes on "God's Calling:  Dispelling Confusion over Purposes, Callings and Assignments"
Co-led a monthly all-church and community gathering called

"Living Stones"

– an evening of worship & praise, community sharing and testimonies, and personal prayer ministry time.
Become Skillful Soldiers in the Army of God for America
Christians need help coming together as a body of fighting disciples to battle the onslaught of demonic forces. The seminar is lively and filled with biblical principles. The focus is on how to be a soldier in the Army of God as American Christians. Consider it a spiritual warfare training boot camp.
Will you host a training seminar in your city?
Please complete this brief form:
Email: warfare@KudosMinistry.org